"I hate judges so much! Who are they to ... um..."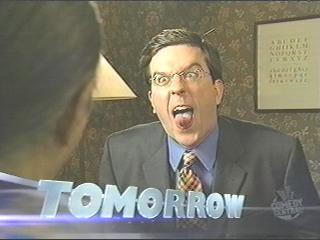 Yeah, I just had to reformat the entire computer so I could at least make screen captures and go online for the next couple of weeks until I get my new computer.
Oh! I timer recorded last night's show on the wrong tape, so I dubbed it on my Daily Show tape, and I got the tail end of the credits of (
ugggh
) Drawn Together, and I saw an ad for the Annual ThanXgiving day give away weekend, and Stephen Colbert is hosting it this year.
And if you get a chance next week (Thanksgiving) ESPN Classic is having a Cheap Seats marathon, maybe you'll catch the roller derby episode with Ed gueststarring in in.