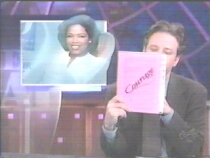 May 2000
With Jon Stewart

Oprah Winfrey, the laurite whose tireless efforts and research led to the discovery that men just don't "get it", launched her new magazine "O" in New York Monday night, after a lifetime of being upset about not having enough stuff to read about herself while pooping gold.
(looking at cover)...who would of thought it would of been...her. Focusing on the inner self, "O" is built as the woman's' personal guide for the 21st century, so guys start rolling your eyes. Among the features in the premiere issue is an exclusive Winfrey Q&A with Camille Cosby, who reveals that things kids say are not always so darned. There are 14 photos of Winfrey in the 320 page issue, editors said that there would of been more photos, but oddly those are the only photos that exist of the reclusive Oprah Winfrey.
The magazine also features a calendar of goals that suggest keeping a courage journal to keep track of thoughts like 'ask yourself 'what were you created to do?' (Jon gets out his courage journal) What was I created to do? I know! Destroy Oprah Winfrey...