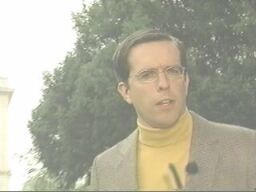 Airdate: October 14, 2002

With Ed Helms
Ed and a camera crew go to Washington D.C. on a cold, dreary, rainy day to search for the soul of democracy, and to explain why The Daily Show is going to be there on October 28-31 (2002) to shoot some shows in the nation's capital. Here are the 'wrap around things' transcribed"
"Hello, I'm Ed Helms, and this is our nation's capital. Where legislation is chiseled from the very bedrock of democracy. And this is a pretzel (holds up a pretzel). As we approach the 2002 midterm elections, upon which the fate of the world depends on (a shot appears on the screen of Jon Stewart mouthing "on us"). We find ourselves asking what is that makes America worth voting for. I've come to Washington to find out. You know, the twists and turns a bill has to take to get though this building is a lot like the twists and turns in this (takes a bite out of the aforementioned pretzel) disappointedly stale snack. (turns around to camera #2) Hello, I'm Ed Helms. The issues that shape our nation are debated not just here in Washington, but in national capitals across the country. One such issue is the high cost of health insurance. Rob Corddry finds out just who to blame...
The Great Emancipator, the rail splitter, Honest Abe. Abraham Lincoln, one of our nation's greatest historical figures, his epic debates with Mike Douglass are the stuff of legends. His discovery of the copper penny quadrupled the nations exact change making capabilities. During the Civil War, he bought his nation together during his famed inguration address at Gettysburg. But Abraham Lincoln was about much more than false teeth and cherry trees, he was about freedom. He liked it, very much. In fact, he's the only president in history to have freed the slaves. Today, Lincoln's legacy lives on, as does the struggle for civil rights. Stephen Colbert visited with a woman...
With liberty and justice for all: those four simple words form a core American principal. But just how important is justice for our way of life? Well, it may surprise you to learn that our government has an entire justice department, and its job is to ensure that justice doesn't fall into the wrong hands. When it does, the problem comes here to the Federal Bureau of Investigation. Headquartered in this beautiful, Romanesque oedipus (sp?) behind me. To walk in the corridors of this building without permission is a risk of a brutal pistol whipping, but to stroll along its parameters is to be reminded that ours is a nation of laws. There are files here on everyone. Not just you an me, known criminals and even terrorists. By hunting down and incarcerating those who violate our laws, we are in a very real sense hunting down and incarcerating a piece of ourselves. Today, our nation is challenged in ways we've never been challenged before. And we continue to root out the evil do-ers who would defy our laws. Steve Carell went undercover to find out just how great this menace is...
Hello, welcome back to Washington. I'm Ed Helms. Behind me stands the city's most majestic ovbilous (sp?): The Washington Monument. Built by George Washington himself to commemorate the 100th anniversary of his own death, this gleaming white shaft, a symbol of the man that fathered our country serves as a beacon of all those who inseminated our nation with the white, milky spermaphozola of um...(turns away) No doubt old George would of been pretty confused by some of our new fangled inventions, like the printing press, or TIVO, or my favorite (shivers) fire, but the timeless values of which he believed in are even less timeful now. Values like elections, and the having of them. Sure, our first president may not of foreseen the full flowering the full flowering of democracy's miracle (pulls a bouquet of flowers out of his jacket sleeve) but the fact is, we live in a country where one can run for any elected office one chooses. Mo Rocca recently met one such one...
I came to Washington D.C. in search of the soul of democracy. What I found was not so much a metaphor, but an actual medium-sized city with buildings and a subway system, and at least one good Salvadorian restaurant But, the point is, that the issues that take our country into these upcoming elections are not abstract ideals, they're every bit as tangible as freedom, liberty, or this guitar. Yup, this old six-string reminds me of America. It's a little battered, a little out of tune, but, I'm Ed Helms, and (starts warbling and playing the guitar):
o/` I'm an American, I'm an American, I'm an Americaaaannn baaabby, like an eagle, I soar, up in the skies of liberty, and I land on purple mountains majesty, majesty, majesty, that's where I land, and I soar over the waaaves of graaay.... o/`
"I'm Ed Helms" count: 5