January 26, 2004
With Jon Stewart and Howard Dean

Jon:
Now, I watched the Sawyer interview. No, that's the kind of J-School bull shit that doesn't wash around here! She wasn't the only media heavyweight to get up close and personal with Dean. This weekend I went up to New Hampshire, to sit down with the once and and possibly future democratic frontrunner.

----
Jon:
Fist of all Governor, I want to thank you so much for taking the time to sit down with us, I'm glad you decided to do it.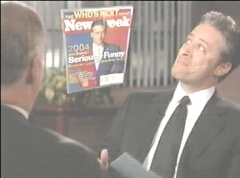 Howard:
I really appreciate the opportunity, unfortunately I don't have that much time.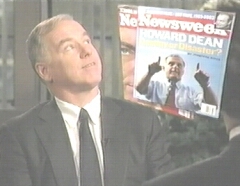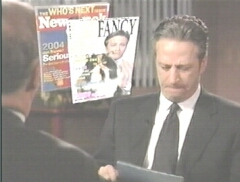 Jon:
Governor, obviously a difficult week, you preferred to do a little bit better in Iowa, you've done some interviews with Diane Sawyer, do you consider those 'damage control' interviews?

Howard's Thoughts:
Good question, Cronkite. Certainly its going to help some. It's good to get people to get to know me.

Jon:
How will you control the damage done from this? (Jon's thoughts) This is going great!

Howard's Thoughts:
You've got five minutes, jackass!

Jon:
The media has tried to pigeon hole you as an angry guy...

Howard's Thoughts:
Those low down, no good son of a .....

Jon:
Governor, are you angry now?

Howard:
Oh, certianly not.

Jon:
How 'bout now?

Howard:
No, not really.

Jon:
Let's move on...now?

Howard:
No...

Jon:
Let's talk New Hampshire. I'm an undecided --- how 'bout now? Now?

Howard:
No.
Jon:
Let's talk issues (uncomfortable pause) how about you start?

Howard:
Health insurance for every single American...

Jon's Thoughts:
Da-dum! Duh.duh duh..I like to eat buttons!

Jon:
Let's talk endorsements. When you found out that Al Gore wanted to endorse you...how hard did you try to get out of that one?

Howard:
(laughs)

Jon's thoughts:
I'm on firree...


Howard:
I thought that Al Gore's endorsement was a great endorsement.

Jon:
Talk to us a little about your position on same sex marriage.

Howard:
We actually chose not to do gay marriage, what we did was to say that every same sex couple could have the same rights...
Jon's thoughts:
Mrs. Jon Dean! Mr. Howard Stewart! Howard & Jon Dean! Dr. & Mr. Jon Dean Stewart!

Jon:
You're also a doctor...

Howard:
I am! It's true that I'm a doctor.

Jon:
Are you a Bill Cosby doctor? Or are you a doctor-doctor?

Howard:
I'm a doctor-doctor in Internal Medicine.

Jon:
That's very interesting. If you don't mind, and I know you're obviously short on time, could you tell me what's this? (Jon lifts up his shirt) Is this normal?

Howard's thoughts:
This guy bruises like a grape.

Jon:
I know this is a bizarre way to do an interview.

Howard:
I can't wait to see it! When is it going on?

Jon:
On Monday.

Jon's thoughts:
After Crank Yankers...

Howard's Thoughts:
It's going to air in Michigan, Arizona, in Oklahoma, in New Mexico...keep it together, Howard, calm down.

Jon:
Our show is a perfect venue to talk directly to young viewers. So if you could, is there anything you want to address to them?

Howard:
I find that young viewers care deeply about the environment and things like renewable energy, they care about the balanced budget, because they know---

Jon:
I'm sorry Doctor, younger.

Howard:
They care about green grass, and they care about not spending any more money than they---

Jon:
I'm sorry, younger.

Howard:
Um...people worry about cleanliness outside--

Jon:
You know what? Can you just jiggle your keys?



Jon's thoughts:
That's right...that's our audience.

Jon:
Doctor Dean, Governor Dean, we've been absolutely delighted that you can spend this time with us, and we really appreciate it.

Howard's Thoughts:
Come on, Howard, we're going to need a full smile here...

Jon:
You know, any time any thing else we can do for you--

Howard's Thoughts:
Raise one corner now the other...

Jon:
Just come and talk to us, because we'd love to do it.

Howard's Thoughts:
Show some teeth.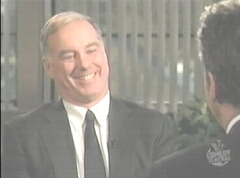 That's a nice smile, well done.





Previous Transcript - List of Transcripts - Next Transcript