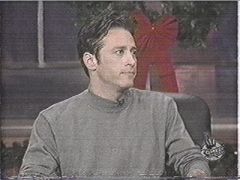 December, 1998 With Craig Kilborn and Jon Stewart (we enter this about a minute into the interview)
Jon: I forgot what a big-good looking man you are.
Craig: Thank you.
Jon: Stop it.
Craig: We're going to talk about The Daily Show, but first let's talk about the movie [The Faculty] --
Jon: Now you see why I'm coming back to TV for Godsakes!
Craig: We know that Jon's a nice guy--
Jon: Put a goatee on me, and I'm a bastard! I get right in there for Godsakes!
Craig: Are you an alien teacher?
Jon: I think so, yeah, I think all the teacher's are, I haven't seen it yet. For all I know its a Christmas movie! I have no idea. It's like a Robert Rodgeuiez/Willamson Sci-Fi, it's like Dawsons Creek gone bad!
Craig: Wow, the young people are going to eat it up!
Jon: They're crazy for the language!
Craig: Do you die?
Jon: You know I can't reveal that. It's like the Crying Game. I'm actually a woman in the movie, I turn out to be a beautiful Jewish woman.
Craig: We're all going to see this.
Jon: Are you really? This is -- by the way -- quite a night, can I very quickly , two things?
Craig: Take your time.
Jon: I congratulate you on the exceptional job you've done here, and wish you well in your new life as a Hollywood Super-sta!
Craig: Alright, a quick story. Two years ago, pre production of The Daily Show, we haven't gone on the air, I get a call from someone who said 'Good Luck', and it was Jon Stewart.
Jon: Yes, I did sir, and you've made it to your being, you did a great job.
Craig: Thank you, now let's talk. The crew got together, we got you a gift.
Jon: Stop it!
Craig: And this is for you... its a phone book, and I want to see if it fits, so...
Jon: Oh my god! (puts phonebook in chair and sits back down) I've got Aaron Aaronson up my ass! I can't believe this! This is nice! I feel good up here!
Craig: It includes the Upper East Side, extra support for your lumbar.
Jon: Thank you very much! So this is what its like up here! Nice! I feel sexy!
Craig: What changes can we expect on The Daily Show?
Jon: Changes?! By God, this is The Daily Show! Man! Why don't I just draw a mustache on the Mona Lisa for Godsakes! We are just bitches on the wheel of The Daily Show, you know that better than anybody! We're feeding the beast!
Craig: What about the correspondents?
Jon: Oh yeah,they're gone!*
Craig: They're gone... I want a half hour of Jon or I'm not tuning in!
Jon: Come to my house! I'm on twenty-four seven! I'm on a loop! I was thinking about doing something with the monitors (points to the old Daily Show 'monitor wall'), I was thinking maybe all menorahs.
Craig: I like that.
Jon: What are you going to do?
Craig: You know what time it is? (pauses) The questions... Time For Five Questions! (little background, Craig used to do this thing with the guest called "Five Questions" where he would ask them five silly questions) ... You're going to stay on that [the phone book] the whole time, aren't you?
Jon: I am going to stay on this the whole time! I love it up here!
(Start Five Questions Segment)
Craig: Geography. What Jersey Shore bar did Bruce Springsteen make famous?
Jon: Stone Cold?
Craig: That is correct! You're going to like this one, this one is from me to you. With the exception of Sandy Cofax, name your favorite Jewish athlete.
Jon: I'm going to go with Art Chanskey?
Craig: That is correct! He jumps well.
Jon: He does jump well. When you're Jewish, you know them all.
Craig: Better bad breakfast? Frozen Waffles or Pop Tarts?
Jon: Ohhh, the frozen? Who can cook? Pop Tarts, you can't go with the Frozen Waffles.
Craig: That is correct.
Jon: I'm on a roll, baby! You're not just giving these to me, are you?
Craig: This next one is tough ... what Randy Newman song went to #2 in 1977?
Jon: Now you just hurt people. Now you're just hurtin' people. What's the next one? A Wizard Of Oz Munchkin question? "Short People Got No Reason To Live"
Craig: That is correct. You know how [Daily Show creator/producer Madeline] Smithberg is!
Jon: (points at coffee cup) Why don't I just go for a swim? Right in here! I'm not tiny, people! It's like I'm eighteen inches tall!
Craig: And finally ...
Jon: This is for five, man this is for five! I get the vacuum cleaner!
Craig: Concerning the host's library, where should I leave "Ass Week" and the back copies of "Torso"? Where do you want those?
Jon: Under the cushions, on the couch.
Craig: That is correct!!
Jon: BOOM! Five for five! Never done it before! I needed that, I needed that.
Craig: Thank you very much, my friend. The Faculty opens --- do you know when The Faculty opens?
Jon: On Christmas Day!
Craig: And Jon is here on The Daily Show With Jon Stewart Monday, January 11th. Give a hand for Jon Stewart!
Jon: Thank you very much!
--- *=Original Daily Show correspondents Brian Unger and A. Whitney Brown left The Daily Show when Craig did. Only Beth Littleford and Stephen Colbert stayed.