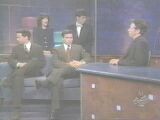 July 17, 2000: Jon Stewart, Vance DeGeneres, Mo Rocca, Steve Carell, and Miriam Tolan.
Jon Stewart:
For a more in-depth analysis of this verdict (and ass) we turn to our Daily Show Legal Dream Team, and the stars of our hit legal spin-off 'evidence of proof: live' Vance DeGeneres, Mo Rocca, Steve Carell, and Miriam Tolan. Now, Vance, I'd like to start off this topic with you: who came out on top in this verdict?

Vance DeGeneres:
Well, Jon, I'm going to spare you the legal-ease (sp?) the real winner here is the party of the first part here to fore referred to as the American People.
Jon:
So, in your mind, big tobacco has done irreplaceable damage?
Vance:
Ipsofacto.
Jon:
Vance, you know that ipsofacto is Latin for 'the thing iself'
Vance:
I...thought it meant 'talk to the hand'
Jon:
Alright. Mo, your thoughts.
Mo Rocca:
Well, Jon, I somewhat agree with Vance, but let me cut though his "mumbo-jumbo" with an analogy. Let's say you, Jon, invited big tobacco over to your house for dinner. Afterwards, you gathered around a terrific antique cherry wood dining room table, drop leaf with authentic shaker chairs for a good old fashioned game of $145 billion dollar verdict, and at the end of the game, the American People win.
Jon:
Mo, doesn't the enormous damage penalty means that they can easily reverse this decision on appeal.
(long pause)
Vance:
I can almost see that dining room.
Steve Carell:
Jon, if I may interrupt for a minute?
Jon:
Yes, go ahead, Steve.
Steve:
I think I can cut though Vance and Mo's legal gobbely-gook with a graph.
Jon:
Well, its about time, Steve. Let's take a look at the graph.
Steve:
I uh...was supposed to bring it? Shoot. Alright, well to summurize what it said, there was a red bar which indicated losing, that was the big tobacco column which I decorated with some Imac clip art of a man smoking. I must say, it was a nice touch. Next to this was a blue bar indicating winning, and on that in large black crayon letters, I wrote "The American People". I feel confident that had it been here, it would of helped me make this issue clear to you.
Jon:
Thank you, Steve, uh...Miriam, your thoughts.
Miriam:
Well, Jon, first off Vance and Mo have spent the better part of the day drinking (Vance and Mo look away), and secondly, Steve has no graph. I made up a graph, and Steve asked to borrow it, and left it on the bus. Therefore, I have no presentation. So, the real loser are big tobacco, and as always, Steve Carell.
Steve:
Ipsofactdo, girlfriend!
Jon:
Thank you very much guys, that was excellent...well, it was work.
Previous Transcript - List of Transcripts - Next Transcript