September 2002
With Jon Stewart, a George Bush Clip, Mo Rocca and Rob Corddry.
Jon Stewart:
Can't one of our leaders with a common man touch explain this to us clearly? Why we're upset about this? Like an invalid outsider like our own President Bush?
(Show clip of President Bush)
Pres. Bush:
There's an old saying in Tennessee, I know its in Texas probably Tennessee too, that says 'Fool me Once...shame on...shame on you...Folmuah can't get fooled again'
(End clip)
Jon:
Now I get it. Political Correspondent Mo Rocca is live in Washington DC with reaction to this latest Bush statement. Mo, thanks for joining us.
Mo Rocca:
Jon, correct me if I'm wrong, but I think I heard the audience laugh at Bush's comment.
Jon:
I believe they did, Mo.
Mo:
Well, this was not as some people seem to believe another Bush gaffe, what the president said was an old Texas saying.
Jon:
I actually always thought the expression was 'fool me once shame on you, fool me twice shame on me'
Mo:
Well, that may be the way they say it in New York, Jon, but there are regional differences here. Colloquiums. For example, you may say 'soda'. Somewhere else they say 'pop'. Here its pancakes. Elsewhere flapjacks. Your state may not execute retarded prisoners. Another state may enjoy that. Look, I can assure you in Bush's home state, the expression is exactly as he said it. In fact, in Bush's Crawford Ranch, the First Lady Laura Bush even has the saying embroidered onto pillows: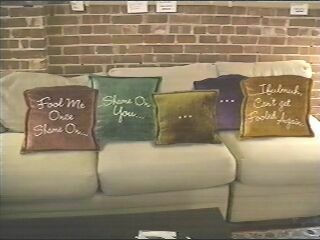 'Fool me once, shame on, shame on you um uh Folmuah can't get fooled again'
Rob Corddry:
Jon!
Mo:
It's a lovely ensemble.
Rob:
Jon!
That's terrific. I'm sorry; we have some breaking news from Rob Corddry in Afghanistan. We're going to go to him right now. I'm sorry, Mo. Rob, can you hear us?
Rob:
Yes! Jon, can you run the clip of Bush again? Karzaid (sp?) told me that it was hilarious. I totally missed it.
Jon:
You don't have any breaking news?
Rob:
Nah.
Jon:
Rob, I really don't think that's appropriate.
Rob:
Aww...come on!
Jon:
Alright
Rob:
Yeah!
(clip is shown again)
Rob:
OH MAN! MAN! Jon, that is so f---ing funny! Oh, rocket incoming, gotta go. Thanks, Jon.
Previous Transcript - List of Transcripts - Next Transcript