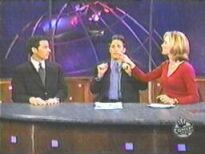 March 22, 1999 - Jon Stewart, Beth Littleford, and Vance DeGeneres
Jon:
And now some personal Daily Show Business. Last week, on ABC's 20/20, Barbara Walters and Diane Sawyer settled their widely publicized feud on the air. If Barbara and Diane are big enough to do it, than so are we. You may of heard read in the tabloids about our own feud over here at the Daily Show over correspondents Beth Littleford and Vance DeGeneres, or you haven't. Either way, it ends here. Beth, is there something you would like to say to Vance?
Beth:
Um...Vance, I'm truly sorry about all of this. I want you to know that I have the utmost respect and fondess for you and I hope we can leave it all behind.
Jon:
That's very nice, Beth. Vance, is there something you'd like to say to Beth?

Vance:
I'm sorry too, Beth. Knowing your approval and friendship means so much more to me than some silly public tiff that may or may not have been started by you getting attention. That's all in the past.
Jon:
Well, I'm happy we got that settled. You know, its uh-
Beth:
Vance, let me assure you that when I told Access Hollywood that you were a cut rate Brian Unger, I hope you understand that what I meant was you're like Stephen Colbert only without the wit, context and timing.
Vance:
Well Beth, I think I understand you perfectly, and let me reassure you that what I said about you on Donny and Marie was taken complexly out of context. When I called you 'untalented' , what I meant to say was that you aren't taletellers, I'm only trying to say that less than what people would want to call talented.
Beth:
Well Vance, I need to thank you for teaching me that good looks and proper hygiene are not exactly prerexquites (sp?) for good journalism.
Vance:
Well Beth, if I have helped raised your journalistic bar or take it off the ground competly at all, I'm only too happy- (pauses) Oh, I'm sorry, Beth you look pale. Can we have one of your many assistants fetch your (make quotation marks with his fingers) vitamin pills?

Beth:
You suck on this show.
Jon:
Oh! Okay, so ok, alright, so that's uh-
Beth:
Oh, thank you by the way for those anonymous memos telling the staff to click on Beth Totally Nude dot-com (to Jon) we were in love, he was an artist (whispers) he took the ones of Dr. Laura.
Jon: (whispering):
Really?
(Beth nods)
Vance:
Well, uh, Beth, I'm going to take the high road here. I'm sorry that I said that you would perform oral sex on Al Roker.
Beth:
(pauses) And I'm sorry you did.
Jon:
That was awesome!
Previous Transcript - List of Transcripts - Next Transcript