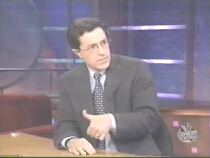 Airdate: June, 2001
With Jon Stewart and Stephen Colbert

Jon Stewart:
Last week the Washington establishment was shaken up by the defection of Republican Senator James Jefforids. For more, we turn to our Senior Political Analyst, Stephen Colbert. Stephen, thank you for joining us. With Jefferoid's new status as an independent senator, the balance of power has shifted. We're seeing the Democrats take over committees, ownership, legislation is getting stalled, how else will this power shift do the government?

Stephen Colbert:
Who cares, Jon? What about the band?!

Jon:
The band...

Stephen:
The Singing Senators! Listen, Jefferoid's leaving means that the Republicans break up the singing senators.

Jon:
Oh, they're the senators that sing...

Stephen:
Sing, Jon?! They're only like the greatest congressional music act ever! They're the standards by which all other senatorial singing groups are judged, man! Check out this rare bootleg I have of the Senaor's legendary gig at NBC's Today show:

(the group sings a song named Elvira)

Mmm-poppa-mmm-poppa-wow-wow! I love those four loveable moptops! Larry Craig, the conservative one, Trent Lott the ultra conservative one, John Ashcroft, the arch-conservative one, and James Jefferoids, the cute one! They had it all! Tight harmonies, choir boy looks, and the medieval social agenda. Now its over, 'cept for the medieval social agenda.

Jon:
Stephen, I had no idea, I'm surprised you were a fan.

Stephen:
Well, I'm shocked you're not, Stewart! Look at these moves!

(shows clip again)

Look at that! Look what Lott's doing there! He patented this move! We wouldn't have kids doing the crippled chicken if it wasn't for Lott! Look, I supported them though the whole controversy over the subliminal messages.

Jon:
What do you mean by that?

Stephen:
Check this out:

(plays a song called "turn your radio on")

Jon:
I didn't hear anything ...

Stephen:
Right ... but listen to it backwards.

Backwards:
Social Security Is Dead...

Stephen:
Koo-Koo-Ka-Joo, Man! They're just kids having fun! They're not Satanists, well, Trent Lott dabbles.

Jon:
Well, I wouldn't' worry. Maybe they can get someone to replace Jefferoids.

Stephen:
NEVER!!! The Singing Senators will always be Larry, John, Trent, and Jim. Got, its like I don't know you anymore, man!

Jon:
Look, I'm sorry.

Stephen:
Forget it, man You're hashing my mellow, and I'm turning you out, Officer Fuzz! Ha!

Jon:
Thank you to promoting me to Officer...

Stephen:
Boys ... let's hear it one ore time...

(plays Elvira again)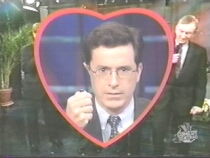 My heart's on fire too, guys. My hearts on fire too...

Jon:
Your lighter's not...

Stephen:
Would you shut up!!










Previous Transcript - List of Transcripts - Next Transcript