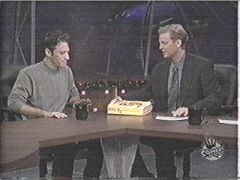 Mon-uuu-mental update on my TDS site.
It's an oldie from 1998 with Jon Stewart and Craig Kilborn.
Man, I loved watching this. (I hope to have a transcript up soon) I got this in the mail from a fan of the site, Emile last year and she loved "old skool" Daily Show as much as I do. I had not seen this since 1998 when I was a sophmore in high school. I remember I thought that Jon wasn't going to cut it. Boy was I wrong!
I'd love to get my hands on some more old TDS, but that's impossible. Nobody recorded Daily Show back then.
And what the hell ever happend to corresponent A. Whitney Brown? Him and Brian Unger were so awesome back then.
Oh, and February 2005 added too.