91.

" Mark Your Calendar : December"
Airdate : December 4, 2003

Jon:
Welcome back to the show. December is the most wonderful time of the year ... allegedly. Here to gudie you through some of the highlights is Ed Helms and Mark Your Calendar.

Ed:
Hi, I'm Ed Helms. Normally, on "Mark Your Calendar", we tell you about all the special days and events in each month, but its December, a month with only one day to celebrate : Christmas, and its on! Like last night during the annual Christmas Tree Lighting Ceremony that took place at New York's Rockefeller Center. A star-studded spectular full of pageantry and excitement you've come to expect from the flipping of a switch!

And Saturday is St. Nicholas day, the fourth century bishop known for his charity. St. Nicholas is the inspiration of the legend of Santa Claus. Interesting tidbit, Mrs. Claus is inspired by Shelley Winter's character in The Poseidon Adventure.

Television is where we get some of our most cherished Christmas images. This year is no exception! My favorite Christmas special airs on VH1 December 14th. Detroit boogie, hop hop, and our lord Jesus Christ comes together for a Kid Rock Christmas! Then, immediately following, stay tuned for VH1's I Love The Kid Rock Special special! Take a look:
(think of the "I Love The __" specials that run at nauseam on VH1)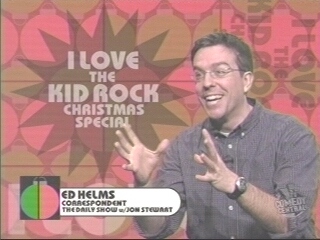 Ok, I remember the Kid Rock Christmas Special from like an hour ago, and it was like Kid Rock, you know, but he had a Christmas special...and it was awesome.
(back to Ed)
God...where do they dig up these people? Well, I'm Ed Helms, and wishing you and yours a Merry December-Christmas all month long! Oh! I almost forgot! Kwanzaa on December 26th, and the 20th through the 27th Hanukah, which is the perfect time to call all your Jewish friends and wish them a "Merry Christmas!" only to be reminded that they're Jewish and they don't celebrate Christmas, because "we don't recognize Jesus Christ as the messiah". You know what? I don't believe any of that either*, and it hasn't stopped me from riding that present train straight to gift town year in year out. Messiah ... that will be the day ... actually that will be the day ... So, we close the book on another year. I hope all of yall feel that your calendars have been specifically marked. I know I do. So, from everyone here at Mark Your Calendar, Happy Holidays.
(A little montage of TDS Staffers comes on after this. I've made a list of this too)

Producer (January-March) ............ Eliott Kalan
Senior Februarian ..........................Erin Dougherty
Autumnal Ombusdman ....................Ari Fishman
Leap Year Consultants ...................Rich Blomquist , Scott Jacobson
Calendar Marker ............................Jen Flanz
Month Wrangler ............................Eric Drysdale
Payroll.........................................Chris Martin, Karen Perrine, Dave Blog
Equinox Fluffer...............................Jason Reich
*=mom, dad if you're reading this, Ed said that. I didn't.


" Comedy Central Presents The Commies"
Airdate : December 7, 2003
(a.k.a. the worst awards show ever)
In this pretaped awards speech, you can see Ed along with other TDS crew members accept their award for "funniest variety or talk show". Jon is making a speech on how the award was a piece of shit, etc, and everyone in the background is hugging. Ed (wearing his jacket as though he left immediately after this) gives fellow correspondent Samantha Bee a really big hug.
92.

" Ed Helms' Tips To Beat The Holiday Blues On A Budget"
Airdate : December 8, 2003
The Christmas season is here again, and you know what that means : crippling depression. So Ed has some cheap ways for us to cheer up.
Step 1 : Therapy
Plenty of people can listen to your problems : including the bored teen at Best Buy. Ed complains about how his mom made him wear Velcro shoes as a child due to bad posture.
Step 2: Plenty Of Sunlight
"But I don't have a light box, and I can't afford a trip to Florida, but I do have this killer strobelight from high school"
Ed sadly has a seizure from the light box, and foams at the mouth as though he just ate an Alka Seltzer.
Step 3: Medication:
How to get cheap meds : write a threatening letter to the president. Make sure to use cut out letters from magazines. Seconds after you send off the letter, you will be whisked of in a van in a straight jacket.
Step 4: Electroshock
Ed does it the cheap (and sexy way) by attaching clips to his tits and then to a van batter and asking someone to start up the van.
Step 5: Exercise
Everybody loves skipping. Even while waiting for the light to change>
Step 6: Act Like A Jewish Person
Break out the dredel .